Chocolate Stroll 2019
The 10th Annual Mount Vernon Chocolate Stroll will take place Saturday, June 1, 2019.
RSVP for the Chocolate Stroll on Facebook.
This music and chocolate event invites guests to stroll down Mount Vernon's historic First Street where participating businesses and chocolate vendors will offer chocolate and chocolate products for sample and sale.
Volunteers can sign up online.
Details about the Make It with Chocolate Contest and the application form are available online.  The contest is free to enter and divided into 2 age categories:  students (17 years of age and under), and adults (18 years of age and over) with 3 prizes awarded in each age category.  Entries must be prepared and made at home with chocolate as a featured ingredient.  Check out the Facebook event for more information.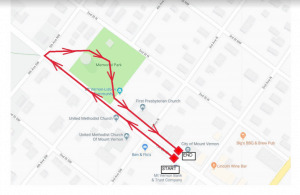 New this year is the Chocolate Stroll .5K Fun Run at 12:15pm.  This family-friendly, handicapped-accessible mini walk/run has a route set up on Mount Vernon's sidewalks to accommodate children, strollers, the elderly, and others with mobility issues
Location: Begins at Old Fire Station parking lot (

215 1

st

St. NW

)
Cost per Participant: $3
Prizes: 

All entrants will receive a sticker and a chocolate snack

Route: The event starts at the parking lot between City Hall and the Old Fire Station. The fun run will head west down 1st St., follow the path through Memorial park, and head back up toward 1st., finishing near the start.
Please arrive 15-20 minutes before the fun run begins to register
Costumes Encouraged!
Also new this year will be a Chocolate Candy Making demonstration by chocolate lover Erica McConaughy at 1 p.m. in the City Hall Conference Room. The demonstration will be free and open to the public and will result in the creation of Chocolate-covered Peanut Butter Balls.
Music this year will begin at 10 a.m. at the Old Fire Station (215 First St. NW):
10am: The Terrific Tanners
11am: James Kennedy and Friends
2pm:  Leah Woosely and the Mother Chuckers
3pm:  Full Moon Horizon
Kids' games and face painting will take place at Memorial Park from 10 a.m. to 4 p.m. The event will include activities such as M&M Bingo and crafts throughout the day, and a balloon artist from 1 to 3 p.m.
"Mount Vernon is home to several chocolatiers and this event celebrates all of them," said Chocolate Stroll Committee Chair Sherene Player. "This year's event will include such specialties as gourmet fudge, chocolate raspberry scones, artisan chocolate bars, chocolate-covered strawberries, as well as the more traditional chocolate truffles, cupcakes, shortbreads and caramels."

About the Mount Vernon-Lisbon Community Development Group

The Mount Vernon-Lisbon Community Development Group exists to improve the social and economic well-being of Mount Vernon and Lisbon by capitalizing on their unique identity, assets and character. Mount Vernon was selected as a Main Street community in 2008, and practices economic development within the context of historic preservation.
About Main Street

The Main Street Approach is a copyrighted process of the National Trust for Historic Preservation.  The Program has been used in Iowa since 1986 with a total of 56 communities having participated.  Mount Vernon was selected as a Main Street community on March 4, 2008 by the State of Iowa, after submitting a comprehensive application and presenting to a select board of reviewers.
About Mount Vernon
Historic Mount Vernon, Iowa, is home to 4500 residents, including 1200 college students enrolled at Cornell College. Located in Eastern Iowa at the intersection of Highways 30 and 1, 20 miles north of Iowa City and 15 miles east of Cedar Rapids, it boasts a vibrant uptown business community with numerous antique and specialty stores, restaurants, coffee houses, commercial art galleries, and three National Historic Districts.