Lincoln Highway Nitty Gritty 2019
The annual Lincoln Highway Nitty Gritty (formerly known as the 4th of July Antiques Extravaganza) is an open-air show located in "Uptown" Mount Vernon, Iowa each July 4.  In addition to the vendor booths, antique shops, specialty shops, and cafes along First Street remain open for the event.
RSVP for the Lincoln Highway Nitty Gritty 2019 on Facebook
The antique vendor applications are available online
If you are a first-time antique dealer at this event, please fill out a New Vendor Application 
The open-air antiques market will feature over 70 vendor booths. More than 8,000 visitors are expected for the one-day-only outdoor sale. Mount Vernon's historic First Street will be closed to traffic for the day, creating a Pedestrian Mall with an outdoor food court and vendor booths set up and down three blocks of Mount Vernon's Uptown Business District. 
Live music performances will be scheduled during the event.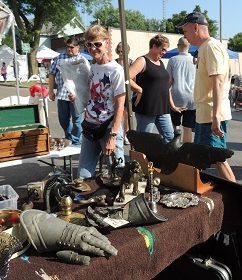 The event is now known as the Lincoln Highway Nitty Gritty. There is a focus on vintage, agricultural, repurposed, industrial, primitive, and retro pieces, as well as traditional collectibles and antiques.
The event remains popular with the antique-buying public because of its Uptown location on a hill that allows the festival to go on rain or shine. And the festival's location right in front of Mount Vernon's air-conditioned shops and restaurants, including multiple antique shops, offers a comfortable retreat from the outdoor, open-air festival.
As always the event is free and open to the public with indoor antique stores, free parking, and plenty of cool inside dining available.
Live music schedule:
10:00am – 12:30pm:  Waubeek Trackers
1:00pm – 3:30pm:  James Kennedy & Friends
New in 2019 is a photography contest open to photographers of all ages.  The Nitty Gritty Antiques Festival Promotional Photography juried contest will include financial prizes of $100 for 1st, $50 for 2nd and $25 for 3rd place. The winning photo(s) will be used in future ads, flyers or other promotional material for Mount Vernon and its festivals.
Photos must be taken on the day of the event, and all photographers are required to fill out the entry form and submit the form with any photos to be considered for the competition. Photographers can send as many photos as they like but must understand that any and/or all photos could be used to promote future events or festivals in Mount Vernon.
"This is a great opportunity for photographers of all ages and experience levels to enjoy the day while capturing the moment," said Nitty Gritty Chair Gretchen Reeh-Robinson. "The committee wanted to add a photographic element to the festival because it is such an incredible visual experience."
The event will take place Thursday, July 4, from 7 a.m. to 4 p.m., rain or shine.
About the Mount Vernon-Lisbon Community Development Group
The Mount Vernon-Lisbon Community Development Group exists to improve the social and economic well-being of Mount Vernon and Lisbon by capitalizing on their unique identity, assets and character. Mount Vernon was selected as a Main Street community in 2008, and practices economic development within the context of historic preservation.
About Main Street
The Main Street Approach is a copyrighted process of the National Trust for Historic Preservation. The Program has been used in Iowa since 1986 with a total of 56 communities having participated. Mount Vernon was selected as a Main Street community on March 4, 2008 by the State of Iowa, after submitting a comprehensive application and presenting to a select board of reviewers.