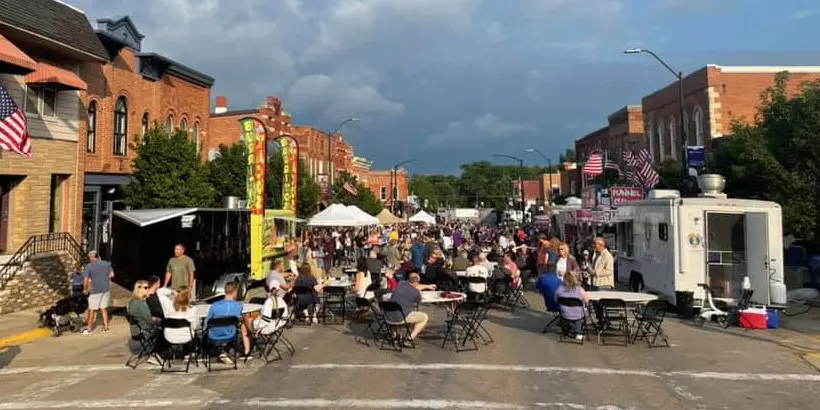 Heritage Days Festival 2023
The 35th Annual Heritage Days Festival, Mount Vernon's biggest summer festival, will take place July 6-8 in and around Uptown Mount Vernon. The 2023 theme is "Family Friendly Mardi Gras."
The event will be hosted by Cornell College, the Lester Buresh Family Community Wellness Center and the Mount Vernon-Lisbon Community Charitable Development Group (CCDG) in partnership with the Mount Vernon Alumni Association, the City of Mount Vernon, and several other local organizations.
Highlights of the three-day festival will include fireworks, a kids fun run, bouncy houses and inflatables, carnival games, bags tournament, a parade, a Car Show, the Memorial Park Family Fun Zone, live music and more.
"The Heritage Days committee chose a family-friendly Mardi Gras theme for 2023. We are grateful to our many sponsors who are making this event possible, and hope everyone will come out and join us as we put a Family Friendly spin on Mardi Gras."

Joe Jennison, Director of Main Street and Marketing for the Mount Vernon-Lisbon Community Charitable Development Group (CCDG)
Thursday, July 6
The event will kick off Thursday, July 6, at the Lester Buresh Family Community Wellness Center, with a kids fun run, bouncy houses, games, food trucks and live music from 5:30 to 8:30 p.m.
The Kids Fun Run by Mount Vernon Bank & Trust is for children ages 0-10. There is a $5 entry fee, which includes t-shirt, snacks and fun races! Registration will be at 4:45 p.m. at the school district track near Washington Elementary School. The run begins at 5:30 p.m. See the facebook event for more info.
Friday, July 7
On Friday, July 7, Heritage Days will host Fireworks Night at Van Metre Field at Ash Park. The event will begin at 8 p.m. with picnic items for sale by Bon Appétit. Families are welcome to bring their own picnic items, but NO ALCOHOL is allowed on site. The fireworks show will begin at dark. Spectators are invited to watch from the bleachers at the football field or in the grassy areas surrounding the bleachers, but no admittance to the track or field will be permitted.
Saturday, July 8
On Saturday, July 8, the day begins at 8 a.m. with an alumni-community breakfast at the Mount Vernon High School Commons.
The annual Heritage Days Parade with a theme of "Family Friendly Mardi Gras," will take place at 10:30 a.m., with lineup beginning at 9:30 a.m. at the Small Athletic and Wellness Center on the Cornell College campus. The parade route is along First Street West, then it winds down to 5th Avenue North, and the parade ends at 7th Street.
Returning this year will be the Memorial Park Family Fun Zone from 11:30 a.m. to 1 p.m. with a "Peter Pan" theme that offers children and families the opportunity to play themed activities and meet costumed characters from the beloved book and movie.
On the Main Stage on the West side of Highway One, Mount Vernon Poet Laureate Amelia Kibbe will do a reading, followed by a short performance by the Mount Vernon-Lisbon Community Theatre and a short performance by Dance Arts Iowa. DJ music will be playing from 5 to 8 p.m. and the Crazy Delicious Band will perform from 8 p.m. to midnight.
The Heritage Days Car Show taking place from 9 a.m. to 3 p.m. on the East side of Highway One on Saturday. A Second Stage will be set up on the lawn of the First Street Community Center, 221 First St. NE, to accommodate the reading of the Declaration of Independence by the American Legion at noon, followed by DJ music and announcements pertaining to the Car Show.
Also on Saturday, the Mount Vernon pool will have a Mardi Gras-themed family night from 5:30 to 7:30 p.m. and a Movie Night showing the animated version of "The Princess and the Frog" from 9-11 p.m.
Heritage Days is an annual Mount Vernon event that seeks to bring the community together, including a large number of MV School Alumni, and raise funds for, and awareness of, several community-based organizations. To that end, a partnership with Southeast Linn Community Center will bring volunteers in T-shirts to Uptown throughout the event to collect donations to help further the mission of this important community organization.
As has been the tradition throughout this event's history, several local organizations will use this event to raise money for local projects. Some of those organizations include the Mount Vernon Volunteer Firefighters and the Mount Vernon Wrestling Club.
Sign up for the bags tournament directly with Aaron Truitt at [email protected] or through phone at (319) 560-4477.
A complete Heritage Days schedule is available:
About Mount Vernon
Historic Mount Vernon, Iowa, is the home to 4500 residents, including 1200 college students enrolled at Cornell College. Located in Eastern Iowa at the intersection of Highways 30 and 1, 20 miles north of Iowa City and 15 miles east of Cedar Rapids, it boasts a vibrant uptown business community with numerous antique and specialty stores, restaurants, coffee houses, art galleries, and three National Historic Districts.
About the Mount Vernon-Lisbon Community Development Group
The Mount Vernon-Lisbon Community Development Group exists to improve the social and economic well-being of Mount Vernon and Lisbon by capitalizing on their unique identity, assets and character. Mount Vernon was selected as a Main Street community in 2008, and practices economic development within the context of historic preservation.
About Main Street
The Main Street Approach is a copyrighted process of the National Trust for Historic Preservation. The Program has been used in Iowa since 1986 with a total of 56 communities having participated. Mount Vernon was selected as a Main Street community on March 4, 2008 by the State of Iowa, after submitting a comprehensive application and presenting to a select board of reviewers.